By: Denise Simon | Founders Code
'Petition the government for a redress of grievances'…remember that part of the First Amendment? 45 words of freedom… no more.
So, from the Department of Homeland Security under the Biden administration… Notice it expires in 3 months… hummm
Summary
The Acting Secretary of Homeland Security has issued a National Terrorism Advisory System (NTAS) Bulletin due to a heightened threat environment across the United States, which DHS believes will persist in the weeks following the successful Presidential Inauguration. Information suggests that some ideologically-motivated violent extremists with objections to the exercise of governmental authority and the presidential transition, as well as other perceived grievances fueled by false narratives, could continue to mobilize to incite or commit violence.
Duration
Issued: January 27, 2021 11:00 am
Expires: April 30, 2021 01:00 pm
Details
Throughout 2020, Domestic Violent Extremists (DVEs) targeted individuals with opposing views engaged in First Amendment-protected, non-violent protest activity. DVEs motivated by a range of issues, including anger over COVID-19 restrictions, the 2020 election results, and police use of force have plotted and on occasion carried out attacks against government facilities.
Long-standing racial and ethnic tension—including opposition to immigration—has driven DVE attacks, including a 2019 shooting in El Paso, Texas that killed 23 people.
DHS is concerned these same drivers to violence will remain through early 2021 and some DVEs may be emboldened by the January 6, 2021 breach of the U.S. Capitol Building in Washington, D.C. to target elected officials and government facilities.
DHS remains concerned that Homegrown Violent Extremists (HVEs) inspired by foreign terrorist groups, who committed three attacks targeting government officials in 2020, remain a threat.
Threats of violence against critical infrastructure, including the electric, telecommunications and healthcare sectors, increased in 2020 with violent extremists citing misinformation and conspiracy theories about COVID-19 for their actions.
DHS, as well as other Federal agencies and law enforcement partners will continue to take precautions to protect people and infrastructure across the United States.
DHS remains committed to preventing violence and threats meant to intimidate or coerce specific populations on the basis of their religion, race, ethnicity, identity or political views.
DHS encourages state, local, tribal, and territorial homeland security partners to continue prioritizing physical security measures, particularly around government facilities, to protect people and critical infrastructure.
The Biden inaugural address included much of this language and Congresswoman Alexandria Ocasio Cortez may be nuts but she is telling us what is really going on… this is a full blown assault on white, conservative citizens across the country… 70,80, 90, 100 million people perhaps?
Do you really know the reason the National Guard is still in Washington, DC? It is not so much about securing the Capitol or guarding against further protests, it is a message to the nation that you are simply no longer trusted in any form.
Further, this site wrote about pending legislation in Congress that should terrify you beyond words. As a reminder: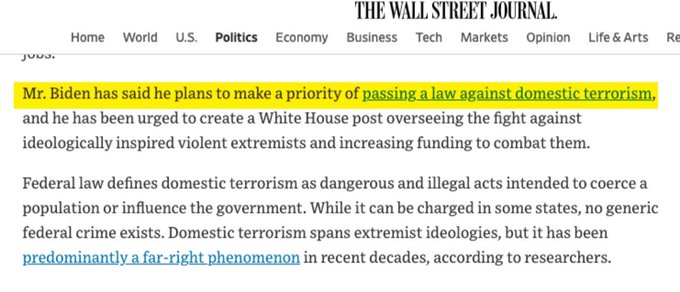 There have been countless hearings on The Hill in various committees where Democrats assert the deadly threats of white nationalism and systemic racism. At no time is there tangible evidence except talking points concocted by progressive think tanks and isolated cases investigated by the FBI.
There is also the ever-constant issue getting very little attention and that is 'critical race theory'. Emerging from Harvard University in the 1980s, critical race theory came from Derrick Bell, a tenured African-American professor.
In part from The Federalist:
As such, federal employees and those who work for corporations that do business with the federal government sucked into the poisonous vortex of critical race theory can thank President Trump for ordering a stop to the promulgation of critical race theory. Thanks should also be sent to scholar Christopher Rufo, whose diligence brought the critical race theory venom to the forefront of Trump's attention, and Russ Vought, director of the Office of Management and Budget, who is working to root out members of the administrative state who defy that order.
It's important to remember that because very few of its activists have shown much sincere desire to end racism, critical race theory should not be taken entirely at face value. If a majority of its supporters were sincere, they would be willing to have fruitful discussions in a civil society that supports civil discourse. Rather, critical race theory's agitators are committed to tearing down civil society on the pretense that it is an incubator for "systemic racism."
If you've any doubt about that, consider the Smithsonian display on "whiteness" that condemned all elements of civil society, including politeness, hard work, self-reliance, logic, planning, and family cohesion. None of those are "white" values, but critical race theory frames them just so. This sort of animus proves that critical race theory "arguments" are non-starters and merely serve as convenient pretexts for power grabs.
Doused with critical race theory, the Black Lives Matter organization and its related Antifa-infused mobs are organized for the same purposes as all cult recruits: to recruit more people and to implement the desire to divide and conquer. The phenomenon can be seen as they surround people in vehicles or restaurants, demanding their victims raise a fist and recite slogans under the intense intimidation and implications of violence.
Where do you go to redress grievances? Nowhere… just behave accordingly to the Democrats.